AridGrow® PRODUCTS
AridGrow® PHSC-C (Powdered Humic Soil Creator - Concentrated) is a highly concentrated extract based on Humic Substances, allocated from Peat & Sapropel Mixture on special AridGrow® Technology. A capacious moisture-accumulating material that absorbs and retains water and soil moisture well and quickly, containing a large amount of natural Humin, a wide range of biologically active fractions of Humic, Fulvic and Amino Acids, a full range of natural Macro and Microelements and a natural NPK complex. Made in the Republic of Belarus by Belarus-UK joint venture AridGrow Production Ltd. in accordance with ТR BY 490421644.001-2006 | ТR BY 490421644.002-2016 | ТR BY 490421644.005-2020 | ТR BY 490421644.009-2023 under the license and control of the scientific-research company AridGrow Laboratories Ltd. (UK). The period of storage in the sealed original packing is not limited. Store in a dry place with temperature range from -50°С to +50°С, preventing from direct sunlight and unwanted encapsulation of moisture.
VIDEO PRESENTATION OF THE PRODUCT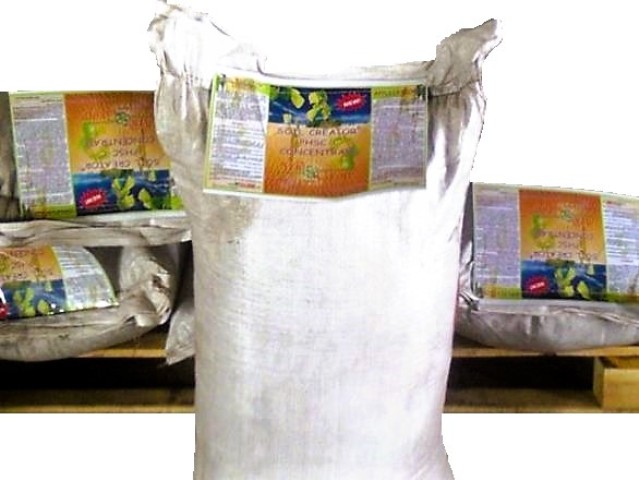 SOIL CREATOR AridGrow® is a universal tool for complete restoration of the lost agro-physical-chemical properties of the soil and its fertility by enriching it with all the components, necessary for the development and growth of plants. A highly effective means of cultivating depleted, barren and desert territories, combating salinization, excessive chemicalization and radioactivity. It acts over a long period of time, completely, gradually and fully restoring the natural fertility of the soil. Highly concentrated & complexed, moisture-keeping, ecologically pure & environmentally friendly natural organic POWDERED AMELIORANT-SOIL CONDITIONER OF A LONG LASTING EFFECT black by colour without any smell.
Creates soil structure in an environmentally safe manner.
Enriches soil with natural organic ingredients, humus, humic acids, etc.
Restore and maintains long-term soil fertility and its microbiological activity.
Losses of an organic substance due to it mineralization in an ameliorated sandy soil at cultivation row-crop cultures during 5 years take 30-35%, that in 2,5 times less, than at use of any organic fertilizers.
Reduces soil salinization and has high stability to microbiological and oxidizing destruction.
Considerably reduces receipt of heavy metals and radioactive nuclides in plants.
Interferes with a soil crust formation and reduces unproductive moisture losses on physical evaporation and infiltration.
Accumulates and keeps moisture in 20 times more than it weight.
Raises plants resistance to disease, heat and frost damage.
Does not contain pathogenic microflora, seeds of weeds and genetically modified organisms.
Has no limitation on use in soil management and agriculture.
PRINT PRESENTATION OF THE PRODUCT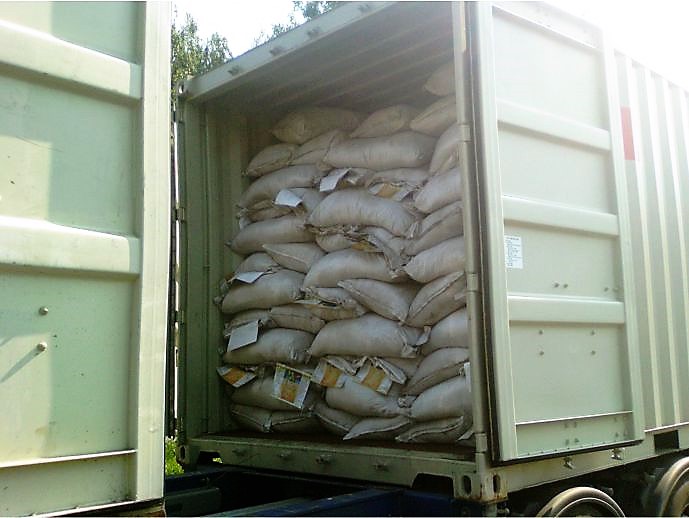 Developed by the Institute for Nature Management of the National Academy of Sciences of Belarus jointly with the Central Botanical Garden of the National Academy of Sciences of Belarus. Has passed successful comprehensive tests during 15 years in the Middle East.
Click Here to see a Material Safety Data Sheet (MSDS) for SOIL CREATOR AridGrow®
Recommended to use by the Ministry of Natural Resources and Environmental Protection of the Republic of Belarus and Ministry of Environment and Water of the United Arab Emirates.
TYPICAL ANALYSIS:*
| | | |
| --- | --- | --- |
| 1. | Humic Substances (Humin) | 20% |
| 2. | Humic Acids | 30% |
| 3. | Fulvic Acids | 6% |
| 4. | Amino Acids | 4% |
| 5. | Microelement Complex: B, Ca, Cl, Co, Cu, Fe, Mg, Mn, Mo, Na, Ni, Se, Si, V, Zn in the water soluble Complexing Agent – Humic Acids | 20% |
| 6. | Total Nitrogen (N) | 10% |
| 7. | Phosphorus (P2O5) | 5% |
| 8. | Potassium (K2O) | 5% |
| 9. | Moisture (H2O) | 50% |
| 10. | Acidity (pH), range | 6-10 |
*Parameters can be modified for new products.
PACKAGING: 5kg/10L HDPE Bag with Handle & 25kg/50L PP Bag with HDPE Liner.